Page 4 - 2021 Aggressor Adventures Catalog
P. 4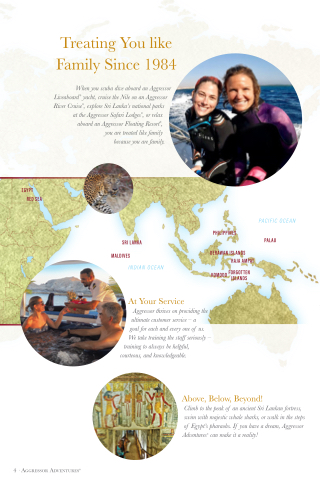 HAWAII
CAYMAN
Choose Your Adventure!
Bahamas Exuma Cays, WEst End, tigEr BEaCh
phILIppInEs
Philippines Aggressor® 46
Raja ampat, IndonEsIa
Raja Ampat Aggressor II® 48
REd sEa, EGypt northErn
Red Sea Aggressor II® 50
REd sEa, EGypt southErn
Red Sea Aggressor III® 52
Roatán, Bay IsLands, honduRas
Roatán Aggressor® 54
soCoRRo, mExICo
Socorro Aggressor® 56
sRi laNka safaRi lodge
Aggressor Safari Lodges® 58
thaILand north andaman sEa
Thailand Aggressor® 60
Bahamas Aggressor III®
BELIZE
14
16 Cayman Aggressor V® 18
Belize Aggressor III®
Belize Aggressor IV® 16
Cayman IsLands, BWI
Photo Courses with Mike & Mike
Les Stroud Costa Rican Adventure 21
CoCos IsLand, Costa RICa
Okeanos Aggressor I® 22 Okeanos Aggressor II® 22
domInICan REpuBLIC, sILvER Bank
Turks & Caicos Aggressor II® 24
GaLapaGos IsLands, ECuadoR
Galapagos Aggressor III® 26
GuadaLupE IsLand, mExICo
Socorro Aggressor® 28
komodo, IndonEsIa
Indo Aggressor® 30
kona, haWaI'I
Kona Aggressor II® 32
Nile RiveR CRuises
Aggressor River Cruises® 36
maLdIvEs
Maldives Aggressor II® 38
tuRks & CaICos IsLands, BWI
Turks & Caicos Aggressor II®
62
oman
Oman Aggressor®
paLau
40
aGGREssoR tRavEL dEpaRtmEnt
Aggressor Adventures offers a full-service, in-house travel agency to book flights, hotels and tour excursions. Contact them at 800-348-2628, +1-706-434-8158, or travel@aggressor.com.
Palau Aggressor II® 44 Rock Islands Aggressor® 44
London✈ Paris✈
✈Madrid
✈Frankfurt
Los Angeles✈ GUADALUPE
SOCORRO
Houston✈
4 · aggrEssor advEnturEs®
✈Bali
COCOS ISLAND GALAPAGOS
Bangkok✈
SING✈APORE Jakarta✈
G✈UAM RAJA AMPAT
Chicago✈
✈New York
TURKS & CAICOS DOMINICAN REPUBLIC
✈Charlotte ✈Atlanta
✈Seoul
Miami
✈
✈Dubai OMAN
20
Accommodations 64-69 Terms and Conditions 72
Contact Us Rates
75 inside back cover 74-75
Red Sea
DERAWAN ISLANDS
KOMODO FORGOTTEN IS.