Page 28 - 2021 Aggressor Adventures Catalog
P. 28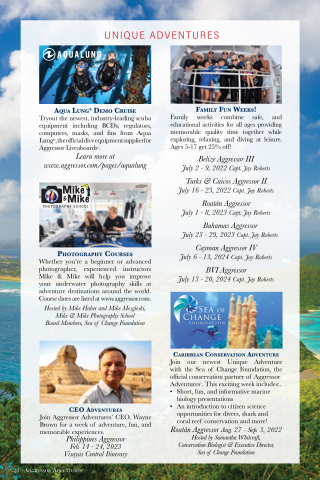 Michele Westmorland
guAdAlupe islAnd, mexiCo:
Socorro Aggressor® yacht
August Through October Four Nights 2021, Five Nights 2022
Great white shark adventures depart from Ensenada, Mexico. The four- and five-night itineraries provides an up-close and personal adventure for shark seekers who enter surface or submersible cages to experience great whites. Guests rotate entering the cages every hour while seeing several sharks during each dive. All dives in the shark cages use surface supplied air sources or hookahs. After an adrenaline-filled day, guests enjoy cocktails and breath-taking sunsets.
Shark cage dives do not require special certifications or training.
Michele Westmorland
USA
San diego (SAN)
Tijuana (TIJ)
    Ensenada
ISLA guAdALuPE
MEXICO
28 · Aggressor Adventures®
BAJA
Guadalupe Island, Mexico Socorro Aggressor®
Underwater camera rentals are available onboard for amazing, up-close photo opportunities.
No special certification or training needed for great white adventures.